---
Head Injury Association Day Program Helps Adults with TBI



Source: Arlene Gross
Special to Newsday
Updated: March 17, 2023 | 03:14 PM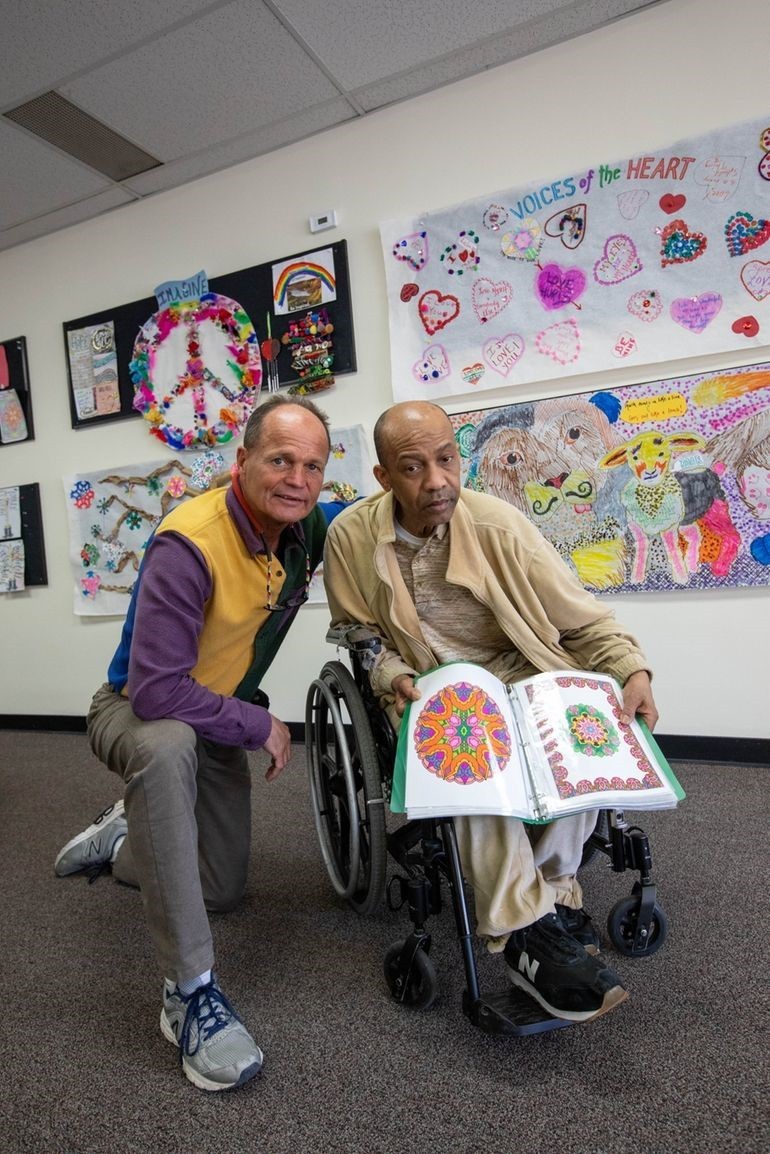 Kevin Moley Sr., left, and Jeff Taylor are friends in the day program run by the Head Injury Association's Cultural Arts Center in Hauppauge. Credit: Linda Rosier
On a recent Wednesday, the Head Injury Association's Cultural Arts Center was abuzz. Taking a break from art therapy, Brian Q. made a beeline to the 1 p.m. Zumba class starting in the next room, where was soon shimmying and shaking to a medley of popular music.
"Keeping along with the beat can be a bit tricky," said Brian Q., 56, one of three dozen or so survivors of traumatic brain injury who regularly attend the day programs at the Hauppauge nonprofit. He asked that his last name not be used to protect his privacy.
Leigh Saltzman, 75, participated from his wheelchair, tapping to the beat with his hand.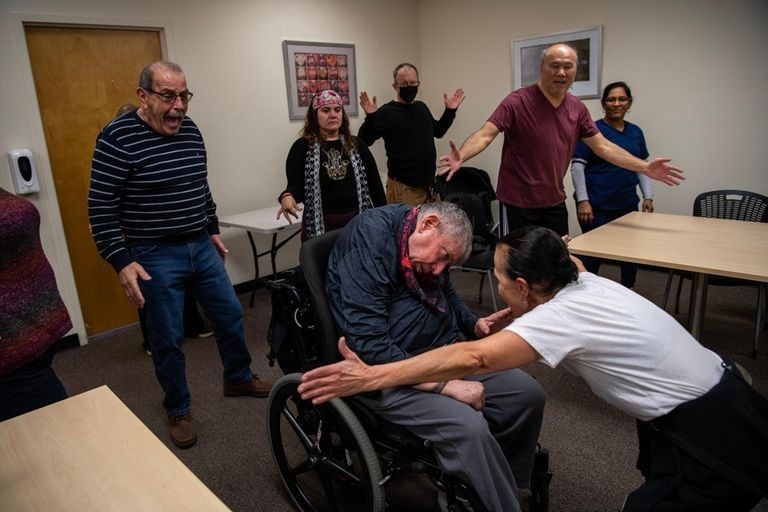 Coached by Zumba instructor Judy Saunders, Leigh Saltzman, 75, in wheelchair, participates in a class by tapping his hand to the beat. Credit: Brittainy Newman
"Even though they're not up and dancing, you can see they're getting involved," said Barbara Senzel, executive director of the organization, who was visiting the program that day.
After the class, Jennifer Kotoff, 54, said of Zumba and other activities she enjoys, like dancing, arts and crafts, "Jeopardy!" and meditation: "It gives me things to do when I'm upset. It helps me focus and calms me down."
Dancing and exercise help energize TBI survivors, noted Linda Otto, program manager for the center.
"It definitely improves the mood and sets them up for the day," said Otto, adding that such activities help ease attendees into group discussions, build self-confidence and counter depression.
Other activities offered at the center include "Name That Tune," Reiki/energy meditation, trivia, karaoke and dancing to a DJ spinning tunes. "Anything we can do to lift them up leads to a better quality of life," said Michele Magro, chief of development and Department of Health services for the Head Injury Association.
Finding friendship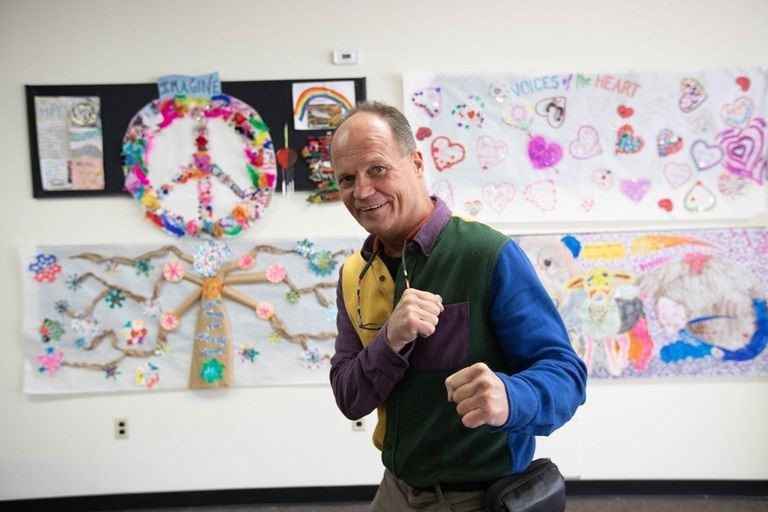 Kevin Moley Sr., a former boxer, is quick to point out the achievements of others in the day program. "He gives everybody a lift," says his brother. Credit: Linda Rosier
For Kevin Moley Sr., 63, the Cultural Arts Center is a place to go — typically four times a week — to hang out with friends, participate in karaoke, and card and trivia games, and assist those with limited mobility, pulling up chairs or helping them with their jackets.
"I enjoy people there," said Moley, who has short-term memory loss from repeated blows to the head incurred over his two decades as a middleweight boxer. "I enjoy music and singing songs about people using their names."
Taking a page from the work of boxing promoters, Moley is quick to boost other people's achievements and loves to show off the beautiful and intricate coloring book art Jeff Taylor creates at the day program.
It was Moley's calls to Newsday in November that prompted this story. Over the next several months, Moley kept in touch through phone calls and texts of his friend's artwork.
"Kevin enjoys helping other people with his positive attitude," said Tim Moley, his brother, who lives in St. James. "He gives everybody a lift. He's the life of the party."
Happy that his friend Kevin enjoys his artwork, Taylor, 60, pointed out that he used to be righthanded. After three months in a coma because of a car accident that injured his right hand and shoulder, he learned to use his left hand, even strengthening it as he put colored pencil to paper.
Coloring, he said, is relaxing and gives him a sense of accomplishment. It's challenging, though, Taylor explained, because he first has to study each design to see the pattern. Then he picks a color scheme, which he carries throughout the page in an organized way to enhance the designs.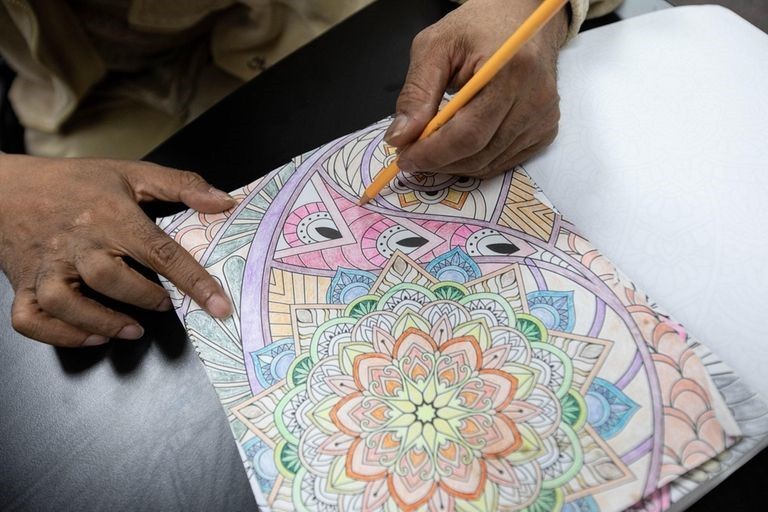 Jeff Taylor, originally righthanded, uses coloring to strengthen and train his left hand at the Cultural Arts Center of the Head Injury Association in Hauppauge. Credit: Linda Rosier
Bridge to healing
Traumatic brain injury can be caused by physical force — such as a blow to the head — oxygen deprivation from a stroke, aneurysm or heart attack, that damages the brain, impairing cognitive ability and possibly physical, behavioral, emotional or social functioning. In the United States, the Centers for Disease Control and Prevention reports, there were about 223,000 TBI hospitalizations in 2019 and, more than 64,000 deaths from TBIs in 2020.
No two brain injuries are the same. For some people, a concussion can cause cognitive difficulties that are not immediately diagnosed; for others, a serious injury leads to hospitalization and months of rehabilitation to address impaired walking and talking.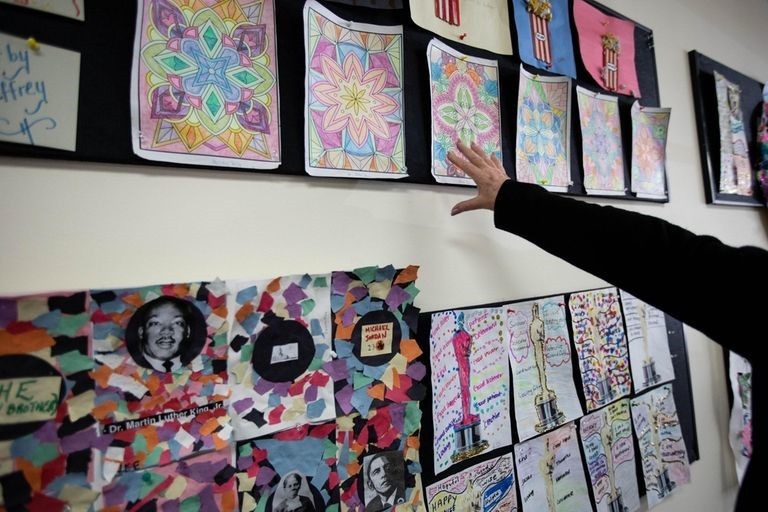 Art is a big part of the program at the Hauppauge nonprofit, but so are trivia and card games, karaoke, meditation and performances. Credit: Linda Rosier
Through rehab, survivors can typically improve, learning once again how to eat, walk and talk, Magro said. Yet, even after rehabilitation, people with traumatic brain injury often experience impulsivity, skewed judgment and short-term memory lapses that can lead to health and safety concerns, like forgetting they've left something cooking on a stove.
That's when survivors and their families look to organizations like HIA for services funded by the New York State Traumatic Brain Injury Waiver program, available to 18- to 64-year-olds enrolled in Medicaid. Once people are in the program, they can continue beyond age 64. Some participants may pay privately.
"The services are to prevent somebody [from] needing nursing-home level care, to keep individuals in the community so that they can heal and live a productive life to the best of their abilities," Magro said.
Headquartered in Hauppauge, the Head Injury Association also has a new satellite center in Mineola where it has rolled out and is expanding its day program.
"We see ourselves as a bridge from the immediate aftermath of their TBI to their healing and to their hopes to help them fulfill their dreams, their challenges and their goals post-TBI," said HIA executive director Senzel.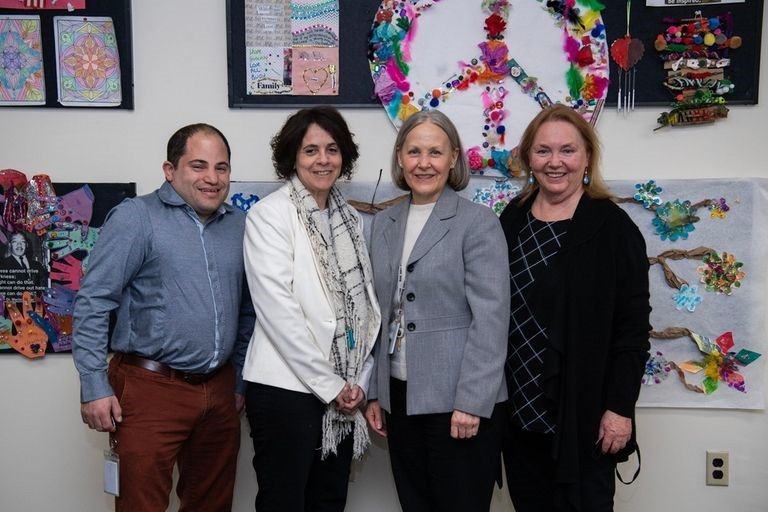 Zachary Hassid, HIA's senior director of day programs; Michele Magro, chief of development; Barbara Senzel, executive director; and Linda Otto, program manager for the center. Credit: Brittainy Newman
The Cultural Arts Center's programming supplements other HIA services, including Independent Living Skills training, which helps develop compensatory strategies for daily life; Community Integration Counseling, in which people learn to cope with and adjust to new challenges; and Positive Behavioral Intervention, to help manage stress, anger and frustration.
Known as a "social model day program," HIA's day program enhances individual goals and outcomes through socialization, group participation and shared activities with people who may be experiencing similar challenges to promote individualization, independence, integration and productivity, Senzel said.
Creativity, connection
At a recent art therapy class at the center, attendees were asked to rifle through magazines to choose images and words to create collages on scrapbooking pages. The activity was meant to help them express how they were feeling. Afterward, attendees were invited to show their artwork to the class and, if they wanted to, to share their thoughts.
The art sessions are always goal-oriented, yet fun and relaxing, noted art therapist Susan Goodman.
"A lot of what we do is to help them find support, to be part of a team," Goodman said. "I think it's important for these guys to feel a sense of accomplishment and purpose."
"When I see my artwork hanging, it makes me feel good inside — a sense of accomplishment," said another attendee, Joseph Mariniello.
His love for cooking was evident in his collage of food photos. Sally Arlen's included a photo of Italy, where she'd traveled to years ago, and the word "inspiration"; and Jennifer Kotoff's incorporated flowers, a tiny house, a cake plate adorned with cookies, and jewelry.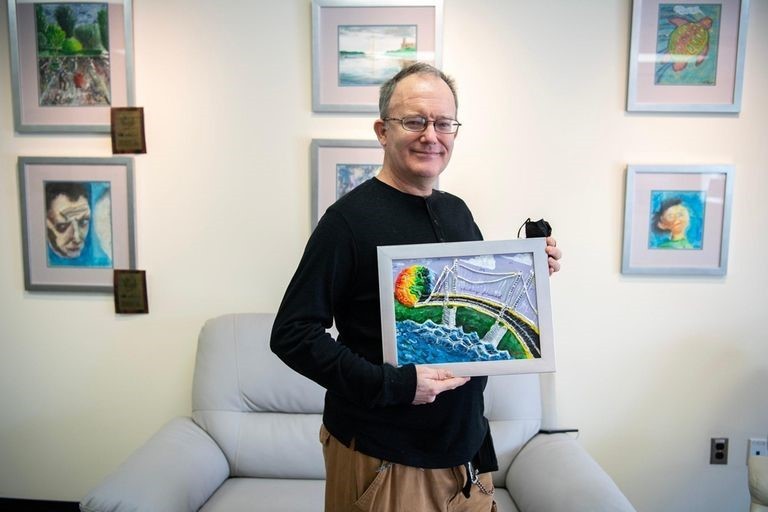 Brian Q., 56, who was injured by heavy equipment in 2007 while working on a film set, has been an artist his whole life and says being able to do art at HIA's day program is "a lifesaver." Credit: Brittainy Newman
Brian Q., whose many paintings in various media hang at the center, often creates the outlines for group murals, like the one with a snowflake theme that highlights how everyone is unique, like snowflakes.
"It's nice to have a lot of hands working on it," said Brian Q., who was struck on the head in 2007 by an industrial metal grinder while working on a film set. "I guess I'm not too bad at figuring out artistic elements."
An artist since early childhood, he said, "So being able to do this now has been quite literally a lifesaver. If I couldn't do it now, I'd be going crazy — I communicate visually."
Art gives those with traumatic brain injury a purpose, which is so vital to them, noted Goodman. Further, she said, "Looking at the artwork helps their memory of what they did."
Working with survivors, HIA staff assess their interests to help develop activities at the center, where they can come attend up to eight hours a day, five days a week.
"One of the most important things in the day program is that people who are coming feel like they're fulfilled, like they're meeting their goals, they're reaching their potential and we try to do whatever we can to assist people through that process," Senzel said.
Progress is individual, specific to the location in the brain and severity of the injury, she said.
"One of the things we do is teach compensatory strategy," Magro said, meaning that for those who may never regain short-term memory, "they can learn to do things differently."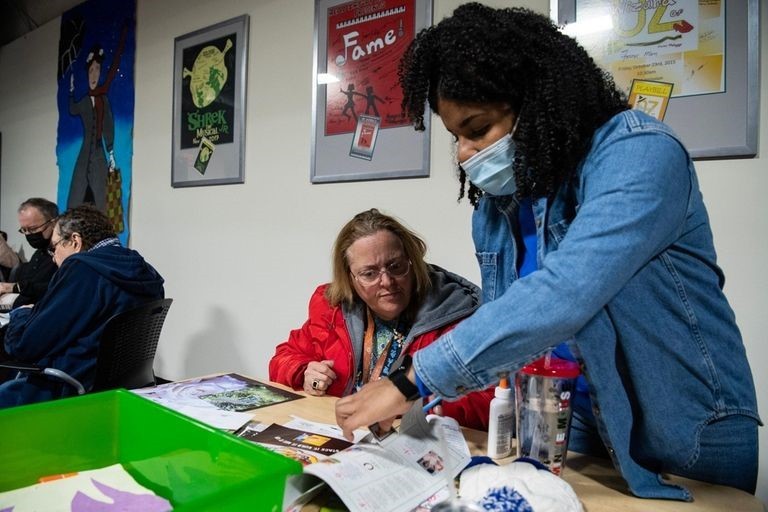 Jennifer Kotoff, 54, left, said the HIA activities, including art and dance, "help me focus." Credit: Brittainy Newman
Each day, the center offers challenges to TBI survivors, said Zachary Hassid, HIA's senior director of day programs.
"It gives people a chance to socialize and enhance their lives," Hassid said. "You walk in this place and you see how happy they are. There is magic every day here."
Dr. Chuck Mikell, a clinical associate professor of neurosurgery at Stony Brook University who is researching treatments for TBI, said that one thing that's missing for many survivors is the "content of consciousness," or what might be called "awareness."
"Things like art and music therapy may be useful for broadening, the more things you are aware of and conscious of, and that probably improves your outcome long term," Mikell said.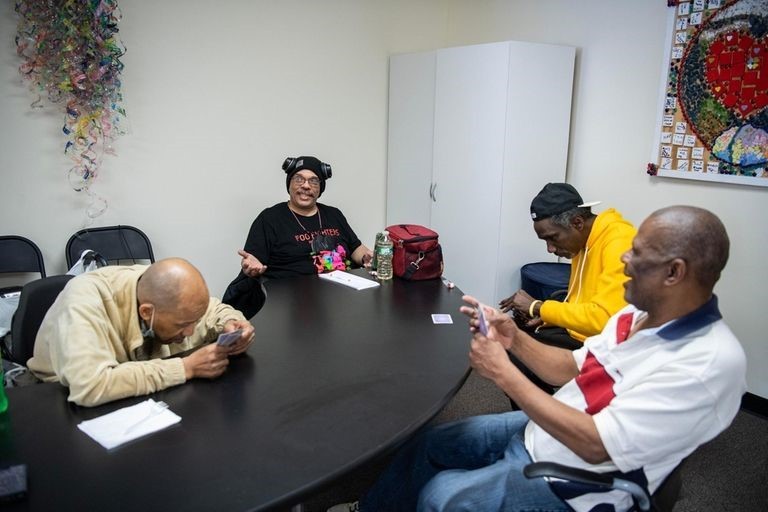 Head Injury Association participants Jeff Taylor, left, Ancel Hunt, James Jones and Levester Ridges play a game of cards at the Hauppauge center. Credit: Brittainy Newman
Prevention and outreach
Another of HIA's goals is to create greater understanding of how traumatic brain injury can be prevented.
Prevention includes avoiding texting, alcohol or drugs when driving; wearing a helmet while on a bicycle or motorcycle or when skiing; and observing safety protocols when participating in contact sports, such as football, hockey and boxing, Senzel said. For older people and children, prevention also means reducing the risks of falling by managing surroundings.
"In any given minute on any given day — any one of us — our lives could change in an instant from a TBI," Senzel said.
As part of its prevention outreach, HIA has asked survivors to visit high schools to share their stories with students about how risky behaviors could lead to devastating outcomes. The program stopped just before COVID-19, but HIA plans to resume it in the next few months.
Ancel Hunt, 46, described how he often volunteered for the outreach program to share with students the bad choices he'd made.
"I put myself here," Hunt said of the injury that caused his TBI. "If one kid in the class listens to my story, they might not make the same mistakes as I have."
Depressed after his father died when he was 15, Hunt began abusing alcohol and drugs. One night, he said, when he was impaired by drugs and upset with his girlfriend, who was driving, he leapt out of a moving car. He was 22 at the time. "I died," Hunt said. "They brought me back — I had two heart attacks, three strokes."
These days, he works three days a week at Bed, Bath & Beyond and spends another two at the center, playing cards, writing poems and being with friends.
"A lot of us would be incredibly lost without this," Hunt said, noting that his pre-TBI friends have disappeared from his life. "All my friends are here."
Another participant in school outreach, Levester Ridges, conveys his experiences with alcohol and drug use, and being homeless. He was hit in the head during a mugging that put him in a coma for 12 days.
Eager to interact with students again, Ridges said, "It gives me gratification and fulfillment in going to outreaches and teaching students about preventing head injury tragedies."
Attending the HIA program since 1995, Ridges, 66, said he enjoys playing cards, acting in plays — he was Simba in a recent production of "The Lion King" — and teaching a monthly history class. With research assistance from HIA staff, he lectures on subjects like Clara Barton (founder of the Red Cross), President John F. Kennedy and Florence Nightingale, the founder of modern nursing.
"I love that stuff," said Ridges, who was studying to become a teacher before his head injury but lost a scholarship to Boston College when his grades fell because of drug abuse. "I love conveying ideas to people."